What is Outpatient?  It is an app created to assist family members in managing a loved one's health care.  Read further to see my review of Outpatient and find out what it is and how it may help you.
What Is Outpatient?
Outpatient is an app created to help families manage a loved one's health care.  Or an individual can use it themselves to have their health care information in one place.  It is available on both the iPhone platform, and for androids. 

Who Can Use Outpatient ?
This app is made for family members to help stay current with a loved one.  Originally created to keep in touch with elderly parents who may live far away, it has expanded to other communities. It is now being used by the military to keep current with personnel records.  
It is a real time app that notifies those who are in the contact list (referred to as the "tribe") of what is happening to the patient at any given time.  On a side note, if you are wondering about whether or not your elderly loved one should live on their own, I wrote an article that might help you make that decision. It's called, Is It Safe For the Elderly To Live Alone?
It is available on iPhone and android platforms.  If you want to use it on a desktop or laptop they now have a link for you to download the app. Click here for that link.
Why Would You Want To Use Outpatient?
This app helps to manage a patient's information.  The people involved with the patient can be included in the patient's care.  The app calls this a case.  The people included could be medical personnel, family members and caregivers.  Friends could also be included.  
The app originated because the creators realized that family members could be miles away, but still needed to be involved in the care of a senior parent.  In this case, the patient or caregiver could update the record and the son or daughter could be notified of the status.  
The creators have also recently developed the app further to include specific features for the military to use.  This helps them to follow personnel records in a dynamic way.  It is a secure format which advances the individual to be compliant with all health requirements.  
In addition the app has other features that keep the tribe informed.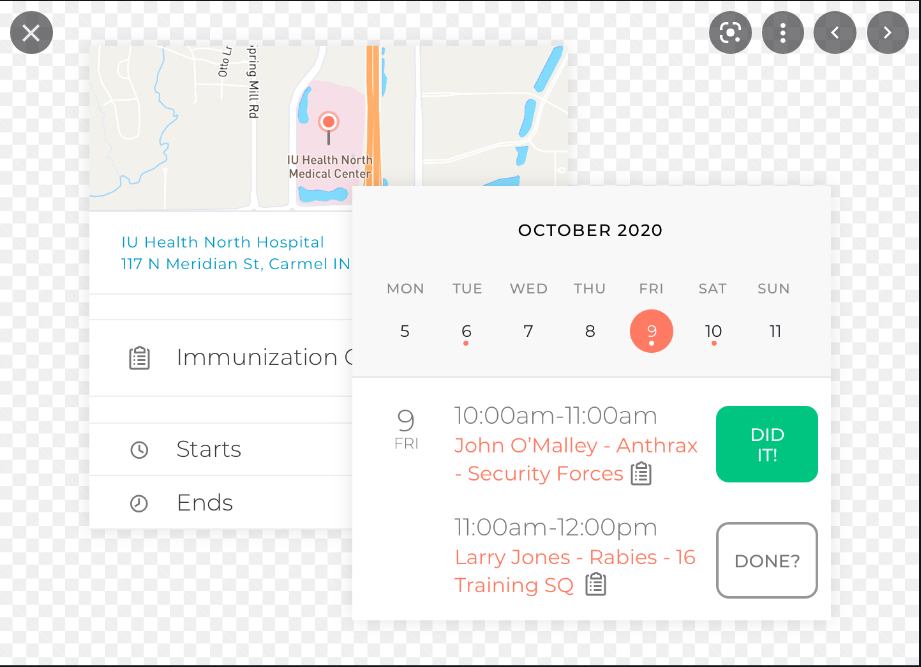 What Are The Features?
From the Help tab, I see an explanation of what is available to me.  
Create a Case – This is where you start your record.  It can be for a family member or for yourself.  You also create your tribe, or those that you want to include in this particular case.
Once you have created a case, you can add notes about visits to the doctor or questions you may want to ask them.  Let's face it.  We all have questions and often forget to ask them!  This is one place you can remind yourself.  And record the answers!
A Health Wallet – Here you include your health history, including medications, your doctors, and even insurance information.
Shared Calendar – This calendar can be shared with all those involved with the case.  Used to keep track of appointments, it can also track activities, like an exercise goal.  There is a button with each entry that shows you have done it.  And if not, your tribe is notified of such.
Success Panel – Gives you a grade on how you are doing in this particular case.  I think it serves as a motivation and accountability tool.
Messaging and Documentation – Here you can text, share photos, and dialogue about the case.
Add Cases – You can add other cases and switch between them as needed.
To start you need to create a profile and enter in pertinent information.  This may be a challenge to the elderly that are not tech savvy.  So I recommend that whoever is using this app to manage the senior's case should set up the profile.  
How Does Outpatient Work?
Probably the main drawback to using this app is that someone has to enter the information.  I doubt that medical persons have the time to do so. Therefore, a caregiver needs to be with the person to enter information about doctor visits.
Depending on how tech savvy the senior citizen is, they can do some if not all of the recording.  But say the person doesn't hear well.  Or isn't tech savvy.  Then someone responsible has to be with them to help them to keep the information current.
The best feature of this app is that it keeps several people in the loop.  It also allows them to see day to day activities and goals accomplished by their loved one.  
So the way it works is that information is entered in the app and the tribe is notified of the information.  The tribe also has access to medical information like medications and conditions, as well as the insurance information.  It is really convenient to have all this in one place.
As the individual goes through the day, they can check off appointments and goals.  This keeps the tribe aware of how they are doing.  It certainly makes for a great real time connection for everyone.  
How Much Does Outpatient Cost?
As far as I can determine, the app is free.  You install it and can start using it immediately.  The first thing you should do is set up your account, which would include your case, and add pertinent information, including your tribe.  
Here is the link to their website, where you can learn more.  Otherwise, use your smartphone to download the Outpatient app.  Or the above link to download to your desktop or laptop.
Other Features I Like
Those of us who shop at Walmart may want to stop by their kiosk that features Outpatient. Walmart is partnering with this app to help seniors to age in place. Hopefully this will help get the word out about this useful app.
This app is 100% HIPPA compliant and secure, which helps assure your confidentiality.
Conclusion
I believe this is a very helpful tool for families, especially to help seniors with their health care.  Health care concerns for seniors are of great priority.  This app helps everyone involved to stay on top of the care that the person needs.  
What do you think of Outpatient?  Have you tried it?  I would love to hear what you think of it.  Also, if you have questions about the app or this article, please leave a comment and I will do my best to find the answer and  get back to you.