What is the best clamp on Grab Bar for getting out of the tub?  Of course it depends on your needs, but I really like the Drive Medical products.  They have a few options which makes them a brand worth investigating.  Read more to find out why you should check them out.  
Introduction
As we age, we find difficulty in doing everyday tasks that we didn't even think about when we were younger!  I find I am constantly dropping things.  Not only is this irritating, but I have to stop and get my balance and take my time to lean over and pick it up.  And it sort of hurts to do so!  What a change from when I was in my twenties!
So it is with getting out of the tub.  If you are like me, you enjoy a good hot soak in the bathtub.  I like to take a bath before going to bed.  It soothes the aching muscles and relaxes me.  And it's nice to feel all fresh and clean before going to bed.  But I can't get out as easily as I used to, so investing in a grab bar seems to be the solution.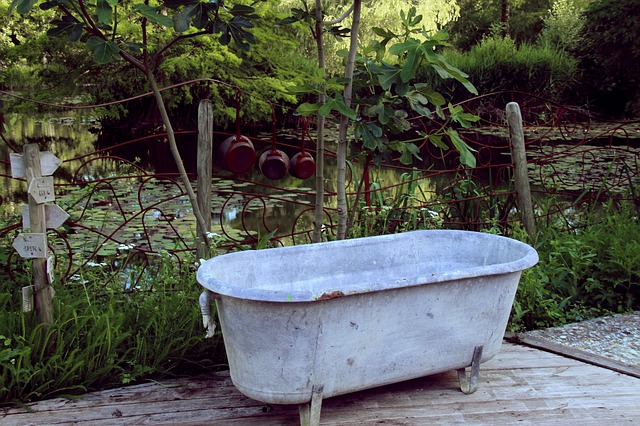 However, I live in an apartment, so I don't want to do something that drills into my tile lined bathing area.  Therefore, a clamp on grab bar is the perfect solution.  And Drive Medical products come highly recommended and featured in various websites.  
In case you do want to install a permanent bar, here is a helpful site called 4 Facts to Know About Bathroom Grab Bars.
Determine Your Needs
First, decide why you might need a Grab Bar.  There are multiple choices in ones that can be attached permanently to your wall.  But for various reasons, a clamp on one might be a better choice.  Here is a list of possible reasons to have a grab bar.  This is not all inclusive, but maybe this might help you decide.
Have difficulty getting out of your tub from a sitting position.
Fear of falling down or slipping while getting out of the tub or shower.
Balance issues. See my article on Balance Exercises!
Need something to stabilize yourself while transferring from the tub to the floor.  
Want to be as independent as possible but careful at the same time.
Limited mobility, but can still move independently.
You rent your apartment or home and can't make permanent changes to it.
An occupational therapist may help you with these decisions if you are working with one.  They may recommend a more permanent solution.  But because these are not a permanent installation, you may be able to decide for yourself if this is a workable answer to your needs.  But above all else, Safety First!  
| | | |
| --- | --- | --- |
| Device Name | Best Feature | Cost Range |
| Drive Medical AquaSense Multi-Adjust Bath Safety Rail | Oval Grab Bar | $$$ |
| AquaSense Steel Bath Safety Rail | Long Grab Bar | $ |
| Clamp-on Tub Rail | Solid White | $$+ |
| Plastic Tub Rail | Looks like an accessory | $ |
Drive Medical Clamp on Grab Bar Products
Drive Medical (dba Drive DeVilbiss Healthcare) offers four different Clamp on Grab Bars.  
AquaSense Multi-Adjust Bath Safety Rail
As the name implies, you have the option of adjusting the height of the grab rail for your body needs.  There are holes where you can push the little recessing button and then pull the bar up and down for the correct height.  This is a feature that is not included in all their clamp on products.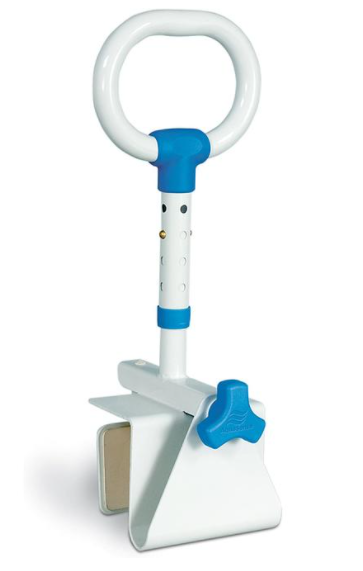 The rail comes with two clamp gripping surfaces that are padded.  This protects the integrity of your bathtub.  You can attach the bar without tools by simply holding the pads against the sides of the tub and turning the large knob till it is tight.  Be sure you really tighten that thing!  Test it before you use it.
The product fits a tub 3" to 7" in width, which should be more than adequate for most uses.  It is made to be rust proof as well.  It claims to support up to 300 lbs. of weight.  The oval grab bar can give you a vertical or horizontal option to hold on to.  
Available at Sears.com, currently listed at $54.46.
AquaSense Steel Bath Safety Rail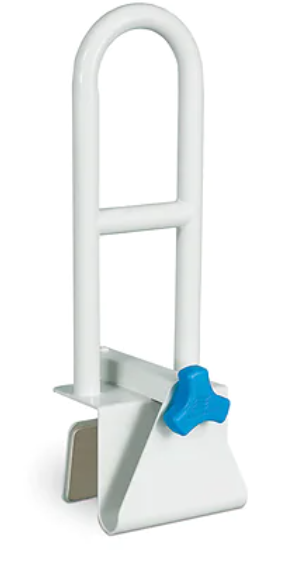 This product also states that you can adjust the height, but not with as many options as the Multi-Adjust option.  It has the same clamping pads and easy knob for attaching and securing.  
The product specifications are the same as above, including fit, weight bearing, and rust proof.  It just has a different look and as I stated, is more limited in its adjustments.
Available from Quill.com, currently listed at $39.99.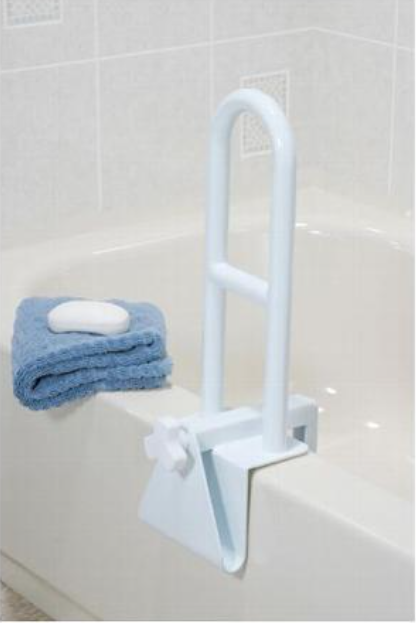 Clamp-on Tub Rail
This Rail adjust from 14.5" to 17".  So, it appears to have less range of adjustment than the above two.  
It states that it fits "most tubs" but not for use on fiberglass tubs.  It does have the handy large knob to secure it though, which is one of the best features of all of their products.  Ease of installation is very important to us seniors.  
Available from SpinLife, currently listed at $50.00.
Plastic Tub Rail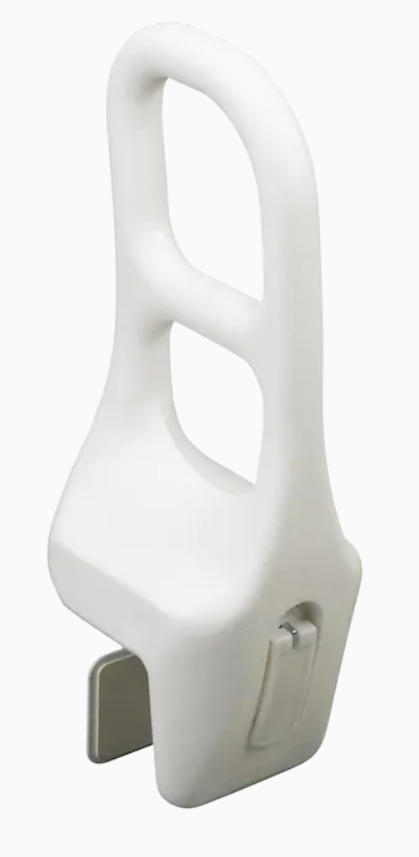 This device looks very different from the other three and you have to admit, is more attractive.  The others look like medical devices.  This one almost looks like an attractive accessory.  
It handles the same amount of weight, i.e. 300 lbs., and easily attaches with the knob not as intrusive.  
What you gain in attractiveness you lose in adjustability.  It has only one height, which is 16.5".  It also only extends to 6.25" unlike the others which adjust to up to 7".  
Available at Lowes.com, currently listed for $32.63.
Personal testimonial
This is from my friend Johnie, who has the low vision issue. Being low vision comes with its own set of problems. Then being a senior and needing a secure bathing environment, prompted him to purchase the Clamp-on Tub Rail.
"I think that getting in and out of a tub is dangerous, unless you have something to hold on to. Because of the surface of the tub, even with safety strips, there is still a danger of slipping. Plus, I've come to realize that not all tubs are created equal. The tub I currently have scares me. I didn't feel safe getting in and out of the tub. I was afraid I would slip and bump my head.
That safety bar stabilizes you. You can use it for getting in and out of the tub, and for moving around in the tub. Any movement in the tub is difficult; this morning I tried to get on my knees and then sitting. Without the bar, I slipped around like a bar of soap. Using the bar to do this, I felt in control.
First of all, just getting in the tub with the bar is safer. I have to soak my feel because of edema, and I can hold on to the bar and sit on the side. Without the bar this is a very precarious maneuver. Using the bar, I have the stability I need.
I got out of the tub this morning knowing the safety bar wouldn't let me slip. Without the bar, I couldn't get in and out of the tub safely. I just felt safer."
Conclusions
Note also that Drive Medical calls them Tub Rails, but it made more sense to me to call them grab bars.  That's how I found them when I did a search.  
I researched most of this information from the Drive Medical website.  Some products state they have a limited lifetime warranty.  Depending on where you purchase these, I would check the warranty for each one.  
And remember!   Don't use a towel bar for grabbing!  They are not designed to hold your weight!  Be safe!  Use a grab bar!
What do you think? Questions or comments are welcome and will help all of us to be safe and independent. Please comment below.
Sometimes I have affiliate links to products where I receive a fee for the referral and purchase. I have no such links in this post. The links are for your ease of use.