Apparently as we age, we need help in just the simple things.  To have a comfortable chair to enjoy is a treat.  Many of us enjoy reclining in them as well.  So now on the scene are electric recliner chairs with helpful lift capability.
Why Electric Recliner Chairs?
Why electric?  Because if we want to recline, that usually means using some sort of lever to move the arms that lift the foot rest and recline the back rest.  And as we age, it is more and more difficult to push that handle.  
In addition, it is also a challenge to get up out of a chair.  So now manufacturers have included a lift device into their recliners.  
Furthermore, this review will only include three chairs that have the feature of infinite-position.  
This is a review of some of the top sellers.  I hope to provide important information to you so that you can decide which chair would be the best for your needs.  
What Features Do You Want? 
Comfort; this seems to be a given, but the type of material used, the number of positions available and the padding are all variables to think about.
Cost; these chairs with recliner positions, lift options and other add on features can run anywhere from $1000 – $2,500+.  
Extras; do you want extras like massage and heat?
Is delivery included?  What about set up?  Because many of us elderly have trouble with that.
Are the controls easy to use?  Is the remote attached with a cord (which helps find the control!)
Number of positions; chairs vary from just 3 positions to infinite (or so they claim).
What height does it accommodate?  Tall people may not find one big enough!  If you are paying this much money, it seems to me you want comfort above all else. 
Cup holder; although not a comfort issue, some customers might find this to be a deal breaker if not available. 
Zero gravity feature; where you can lift your legs above your heart which helps with circulation and relieves back pain.
Check out the website to determine warranties and money back protection.
Safe and reliable. To get more information on safety at home, check out my article here.
All the following chairs have:
Zero Gravity feature
Emergency battery backup for when power failures occur
Three Brands to Consider
1 The Perfect Sleep Chair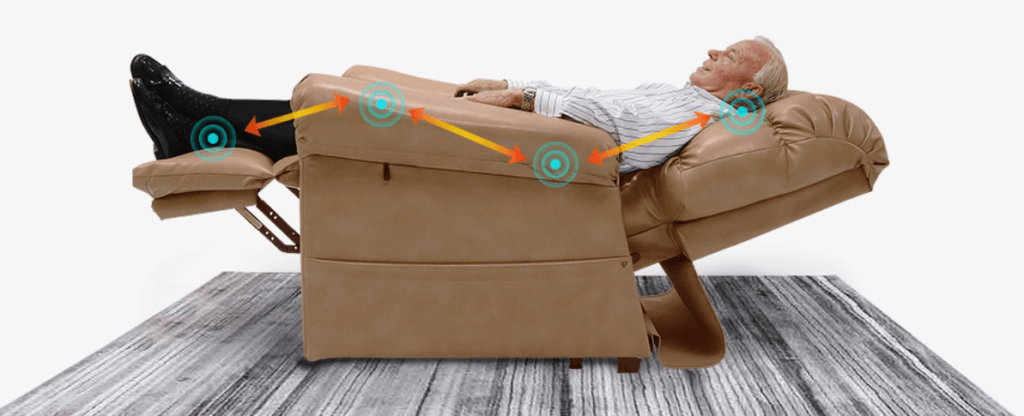 This chair has the best and most numerous options, which is why it costs more than the others.  It has an A+ rating with the BBB.  Like the other two brands I researched (listed below), it reclines and lifts.  
It claims to have infinite positions.  With infinite positions, the back and leg segments operate independently, so you can therefore vary the combinations.  This certainly makes for a more personalized chair.  
You can choose from leather like material or a durable polyester in various colors.  The amazing feature about this chair is you actually special order it to your specifications.  They build the chair just for you!
Besides the features of reclining and lifting, this chair claims to be a wonderful "sleep" chair.  For those of us who have trouble finding a comfortable position in bed because of pain, this might be a great option.  
Will only accept returns on damage or defective chairs, since they make the chair to the consumer's specifications. One thing I don't like about this chair is they aren't very upfront about the cost.  I have seen it listed for $2,500.00, which is higher than the other chairs.  
Check the link for maximum weight limits and measurements for if it can handle your height.  The website doesn't show the weight limit so be sure to ask.  
2 MaxiComfort Cloud PR510 Infinite Position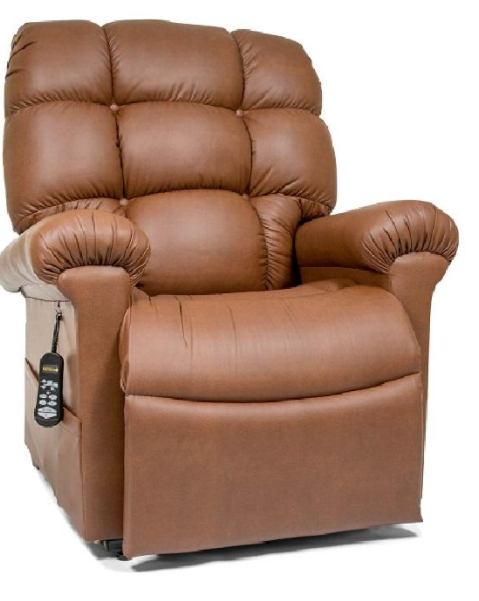 Even though the website advertises two sizes, small/medium and medium/large, it also advertises that the chair can be made to order, with options for color and size.  They also advertise that it has two programmable buttons to remember your favorite settings.  
This company is part of Healthcare DME, which provides medical care products.  So it seems they come to the table with a more medical care philosophy.  They are part of Pride Mobility, which the Mega Motion is also part of.  
So I have no idea if these are two different lines of chairs or the same.  But they have different names.  What is reassuring to me is that they are in the medical equipment business so they should know what they are doing.  
One of the top of the line models, Oasis LC-580i Infinite-Position, comes with a USB port, which is a great feature!  I am very dependent on my smartphone, so this would be a great selling feature for me.  
They have a 7-year limited warranty and 1-year in-home warranty.  Here is a link for you to check their products out.
Although I have read that insurance companies won't pay for these devices, I would recommend you ask about this with this company.  They don't specifically claim that insurance will work with you, but it is sort of implied.  
3 Mega Motion Infinite Position Power Easy Comfort Lift Chair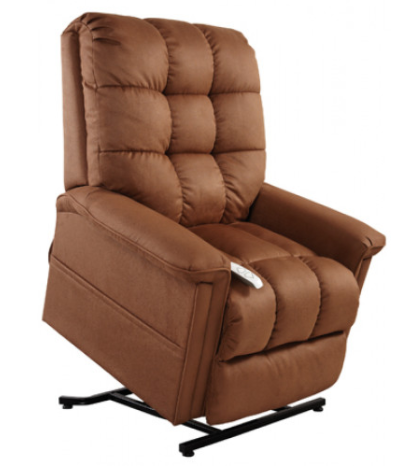 Manufactured by a division of Pride Mobility, this chair is part of their line that concentrates on providing products to help the mobility of seniors and the disabled.  Therefore they have a variety of options with a choice of price along with them.  
The less expensive ones have only three positions, where the more expensive have infinite positions.  This company seems to have several different options which the others do not.  Seems worth investigating.  
Their website boasts that they have 100% Customer Satisfaction Guarantee.  This is worth considering, because the others don't make that statement.  I know it's because they make them to order, but keep this in mind if that is a factor for you.  
Most models come with a side pocket to place magazines or books.  Heat and massage cost extra.  Set up in your home costs extra, but delivery to your door is included.  
Check out their link here for more information and the available models.  This link is where I accessed most of this information.  
Here's a video about the pressure points you should consider.
Be Informed!
Some of the chairs' websites have a disclaimer that it may take a few months to construct the chair due to continued COVID impacts like availability of supplies.
Sometimes I include affiliate links where I earn a small fee if you buy a product. Although I don't have affiliate links here, I do earn a small fee if you purchase through one of my ads. Otherwise the links I include here are to the manufactures' websites, and if you use those, I do not earn a fee.
Conclusion
Was this helpful? I hope so. I wish for everyone that is considering an electric recliner to find the best chair for their situation. Ease and comfort are so important as we age! Any comments or questions are welcome.