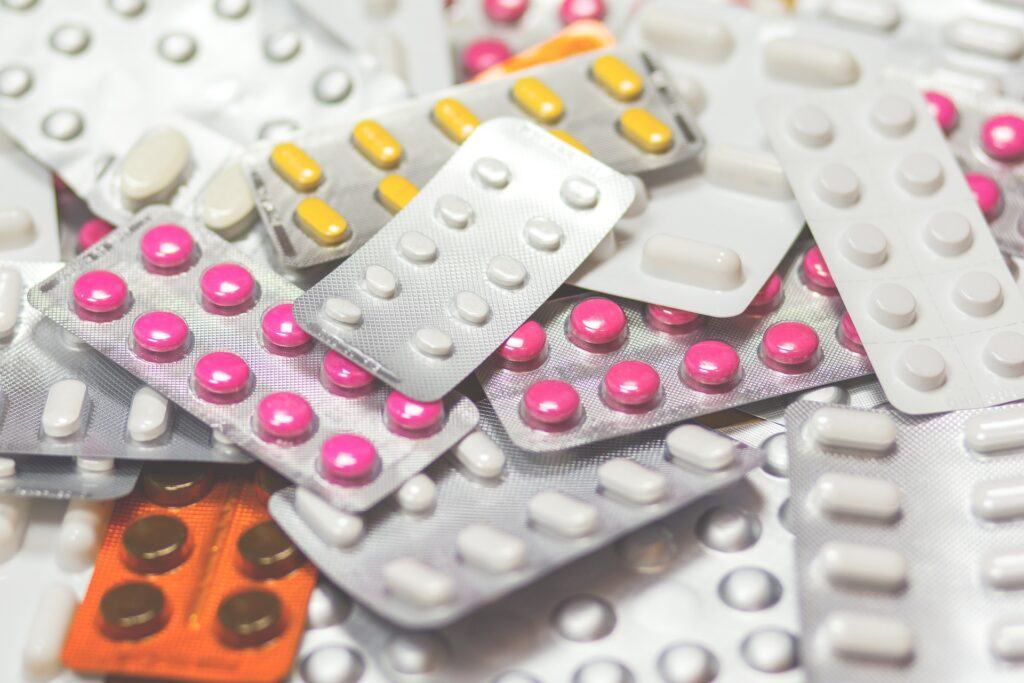 Are you looking for the best pill dispensers for the elderly? Do you get confused by how much medication you have to take and when to take it? Do you forget to take your pills?  Is it difficult for you to open the bottle? Do you drop your pills?
In this article I hope to discuss some of the types of pill dispensers out on the market so that you can make sure to take your medication and make your life a little easier.
There are many different types of dispensers out on the market today. They differ in terms of how technological they are.  Some require no technology. Some come with apps that keep the senior person in contact with loved ones. In this review I will touch on the various types so that you can make an informed decision about what dispenser would work best for you.
What are your needs?
A dispenser should be chosen based on your specific needs. Below is a list (not necessarily all inclusive, but what most of the dispensers address).
To consider:
Need to organize for daily use
Need a reminder throughout the day
Need an easy to open organizer
Need an easy to read organizer
How much you want to spend
Ask yourself what exactly you need from an organizer.  Those are factors to consider as you look for a tool to assist you.  
Types of Pill Dispensers
Categories appear to be organizers, reminders/alerts and a combination of both.  Within those 3 categories are several choices.  
Before we progress further, keep in mind that all these tools need to either be filled by a person, programmed by a person, or both.  If you have issues that interfere with doing any of those, like low vision or confusion, I recommend you have a loved one assist you.
Organizers – have compartments for the pills.  These are mostly set up to the days of the week.  They usually have an a.m. and p.m. compartment.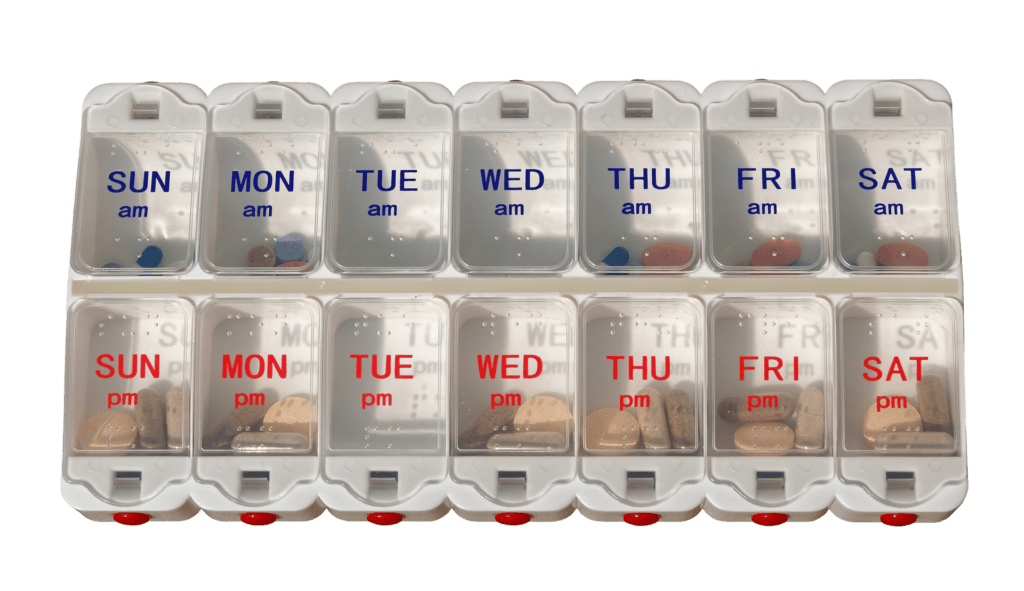 Reminders – usually an alarm that notifies you to take your medication.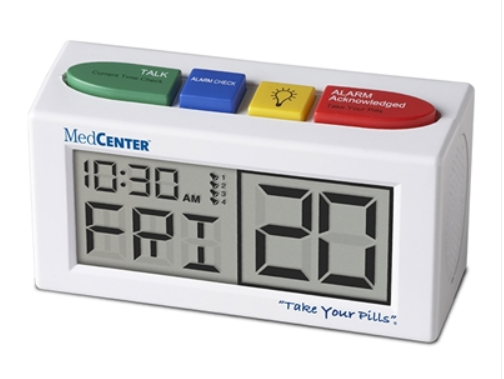 Combination – Combines both of the above.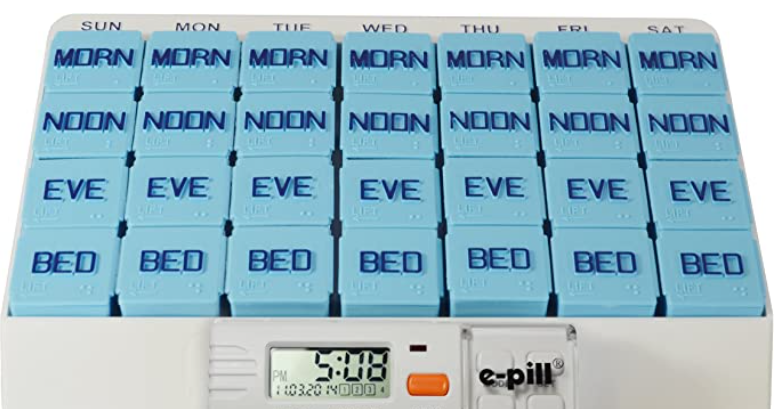 High Tech Electronic – Products that organize and remind and dispense as needed.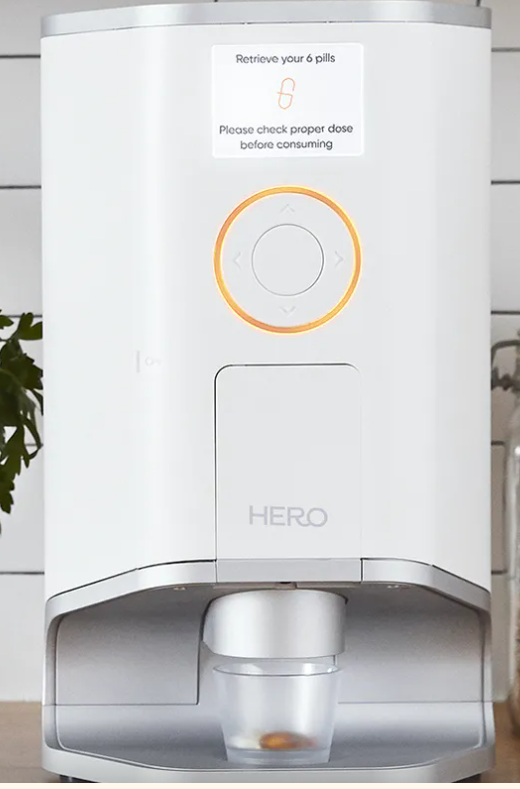 Examples of Types of Pill Dispensers
Basic Pill Box
These products organize your pills into days of the week, and if needed, into times of the day.  So you can go as minimal as day of the week, or up to four times per day.  
These products are easy to use, because you merely put your pills in each day.  Some of the organizers are two weeks worth.  Which makes sense; you only have to refill them every 14 days.  But remember, they should be filled by a person who can see well and has the cognitive ability to not be confused.
Two key factors about these dispensers is that they should be easy to open but secure enough not to open accidently. They should also be easy to read, as most of us have worsening eyesight as we age.
Basic Reminder
Not so much a dispenser as a reminder or alert or alarm.  There are actually products out there that simply act as an alarm throughout the day to remind you to take your medication.  
But if you have a smartphone and are adept at using it, you can set alarms throughout the day to remind you just about anything.  I use mine to remind me to do just that.  And I also use it to remind me to do my meditation, which I practice to manage my pain.  
Combination Organizer and Reminder
These products are where computer-like functions enter the picture.  I imagine that you will need to be fairly tech savvy to program these dispensers.  
The simple ones have the day of the week compartments and come with an alarm that you pre-set.  The more complex ones dispense the pills at a programmed time, so you can't take them until that set time.  
I was overwhelmed by the plethora of these types of products.  Here is a page of images of pill organizers with alarm.  I recommend you click on an image that looks good to you and research from there.  
High Tech
We come now to even more high tech products that are like mini-assistants.  These products can either be loaded by the user or responsible person, or come preloaded according to prescribed medicines.  
They will probably have the following features; an alert or alarm, compartments to hold your medication, a guide to the correct compartment or a feature to dispense that compartment, and perhaps a mobile device to remind you.  
Since these products are on the high end of technology, they will require programming and filling by a responsible party.  It seems to me these products are made for people who might have vision issues or memory issues.  But to use them, one has to be computer savvy to get them programmed and ready to use.  
Two highly advertised products in this category are Hero and RxPense.  
See above for picture of Hero.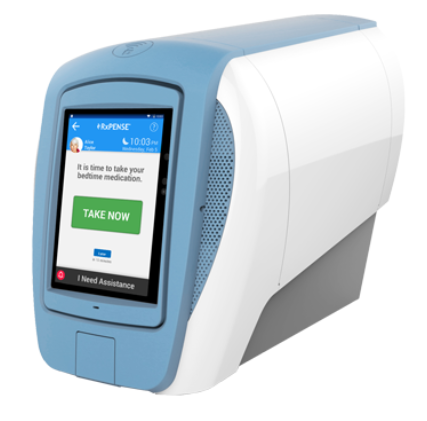 Cost?
You can expect that the more technological your purchase is, the more it is going to cost. I hope that cost will not be your only consideration, but rather what dispenser works best for your needs.
A simple pill dispenser can cost only a few dollars and can be purchased at drug stores, grocery stores and large box stores, as well as online. I recommend you make sure it is easy enough to open for your hands. Sometimes this is a challenge with arthritic hands.
I saw an alarm type that ran about 40.00 (USD). The combination alarm and dispenser were anywhere from $50.00 to $250.00.
The high tech ones appear to be a monthly charge, as they are program based. Hero has a $99.00 quote plus a $29.00/month fee. I could not find a definitive figure for RxPense. Furthermore, these types appear to require a pharmacy and physician involvement.
Disclaimer
I am not a healthcare professional.  But I am a senior myself.  I also took care of my mother for a few years who took multiple prescriptions.  This was before so many of these organizers were available.  I had created a spreadsheet for reference to organize what she took, when she took it and when we needed more.  Then I filled the organizer once a week. You can see that this required my round the clock presence, which is not always possible for many families.
Should you need some assistance with care for your loved one, I reviewed a great company that works with seniors. See my article Reviews of Home Instead Senior Care. I should imagine that these care givers can assist with the pill dispensers.
Conclusion
This article is a mere introduction to pill dispensers for the elderly.  I hope to review each category in the future.  I plan to research what products are available in each category and review their popularity.  If you have a product that you are wondering about please let me know.  Or if you have experience with a product, I would also like to know.  Your comments can help others as we all learn about pill dispensers for the elderly.
Here's a video of the inventor of the e-pill. For information purposes only. I am not necessarily recommending this one. There are several other videos of other products, which I encourage you to research.