Is the Jitterbug Smart2 User Friendly? Reviews say Yes and No. Although it has an easy to read screen and a button for emergencies, it isn't as easy to set up as the company claims. In addition, some people have experienced loss of service. Read further before you make a purchase.
Introduction
In this article I will review the Jitterbug Smart2 cell phone for senior citizens.  This phone has been promoted as a phone that is especially made for seniors.  As a senior myself, I know the challenges we face in this technological world that seems to change everyday.  
According to reports, one in three senior citizens have some sort of vision reducing disease.  In the US there are more than 40 million people over 65.  That's over 13 million in the US alone. 
So we seniors can be technologically challenged and some of us have limited vision. Therefore, I want to provide information that I hope will be helpful to you or a loved one as you decide if the Jitterbug Smart2 is a good fit for your needs.
Is it the right phone for you, or your parents?  Read more to find out.  
Benefits of the Product
The Jitterbug Smart2 phone advertises that it is the "simplest smartphones ever".  This is a very attractive feature to our senior population.  Let's face it, technology is a challenge in even the best of times, and worse if there is vision loss.  It promotes this feature through large easy to read buttons on the home screen.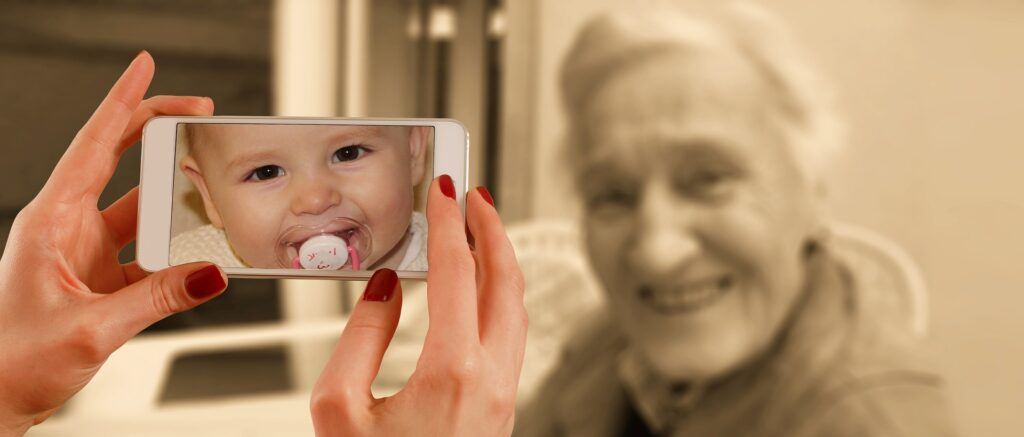 They also advertise the phone as affordable, even with the premium plan, or as they call it, the Ultimate plan.  
The phone has a high quality camera, which is important to most of us as we want to preserve memories, or send our loved one a picture of what is going on in our lives.  
Probably most importantly, the phone features a safety button.  Again, depending on the plan you choose you can push that button and connect with someone at any time.  This person can help you determine what needs to be done; i.e. call emergency services, call a doctor, or call a tow truck.  
How To Use the Product
The technology of this phone is adequate for the person who will use the phone to make calls, text, take pictures and surf the internet.  Other features are email and maps.  The promoted feature is the button that contacts emergency help with one push of a button.
The best use of the product appears to be the emergency button.  The fact that there is a large easy to read screen makes this product very useful for vision impaired people.  These two features make this product very attractive to senior citizens.  
The company (Lively, formerly GreatCall) aimed to make this product as easy to use as possible.  But with any smartphone, there is a learning curve to set it up and use it.  There are several videos on YouTube that cover just about any topic or questions you may have.  I recommend you spend some time searching even before you buy.
Here's a sample of one of their videos.

Product Description and Feature

s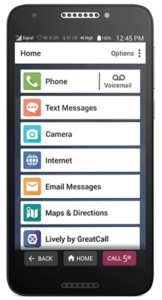 The premier feature of the phone is the large screen; 5.5" in height, with dimensions of 5.98 x 0.33 x 3.03 inches.  Besides larger icons on the screen, it also features an emergency button where you can contact a trained professional to help you in any emergency.
The phone comes with a charging cord and wall charger.  It also comes with a Quick Start Guide.
Here in the US, you can buy this product through most carrier providers, such as Verizon.  Target, and T-Mobile also carry it.  You can also go to the company that makes them, called GreatCall.  This link takes you to the company, and I receive a referral fee if you purchase it through my affiliate program.
On a personal aside, I noticed on GreatCalls' website that John Walsh (America's Most Wanted host) is their Vice President.  I highly respect him.  This fact gives credence to the product, in my mind.  
Who is Product For?
This product is mainly for seniors, or for people with low vision.  The easy to read buttons are accessible to those of us who struggle with technology.  I think it is also a good phone for people that don't want all the bells and whistles that come with other more expensive smartphones.  
| | |
| --- | --- |
| What I Like About the Product | What I Don't Like About the Product |
| Text feature; so you can stay in touch with the younger generation | Not as easy to set up as they claim |
| Large 5.5" screen; with easy to read icons | Takes time to learn the system, so you have to have patience |
| Immediate access to a person to help in an emergency | Some people may require help to set it up |
| One of the most affordable smartphones on the market | |
Consumer Affairs has a review of this product, along with comments/reviews from people that bought the phone.  Click here to take a look.  I recommend you read as many reviews as possible.  There are some people that were very unhappy with their purchase, and their problems might answer your questions.  
I have reviewed another phone (Google Pixel 3A XL) that my friend bought after he found he couldn't use his iPhone anymore.  He is legally blind and needs the capability to invert the screen colors.  Click here to see this review.  
Summary
This phone appears to be a credible option for people with limited vision. Or seniors who are not very tech savvy.  Depending on the experience and technology savvy of the user, it will take time to set up.  But this is true of just about any smartphone, and especially if you are unfamiliar with the system.  
What do you think?  Have you used the phone?  Your comments are welcome! Please leave your comments here, you will be helping others to decide if they should try the phone.