Julie Morgenstern's, Organizing from the Inside Out, is the best system to get organized. Sort, Purge, Assign A Home, Containerize and Equalize are the keys.
This is a topic near and dear to me.  I really love being organized.  But you wouldn't know it to look at my bedroom or my desk, which are the two places I spend most of my time.  So there,  I confessed it.  
I'm not going to let that stop me from posting some ideas though.  I have helped several people through the years to be organized.  So I do speak from some experience.  Which is by the way, one of the first recommendations.  Get someone you trust to help you.  It should be someone who doesn't judge you and will listen to your concerns.
I love this book written by Julie Morgenstern, Organizing From the Inside Out.  I have used it throughout my life.  It is an easy system to use and to remember.  I highly recommend it if you are serious about getting organized.  Or maybe you are helping a senior loved one to get organized.  
Either way, using these techniques will make the process easier.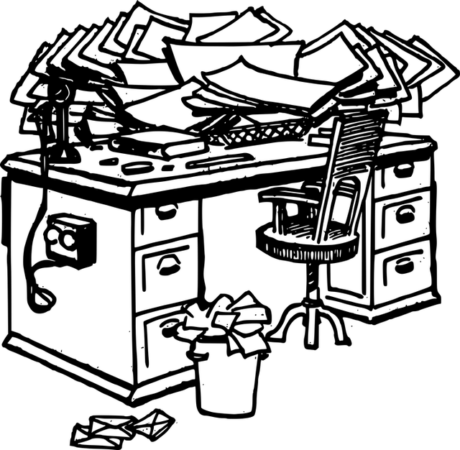 Purchase the book and read a few chapters and then get started.
Motivation
First, let's talk about motivation.  Being organized makes your life easier.  You don't spend time looking for misplaced items.  You don't get frustrated when you are trying to get out the door and can't find your keys.  You don't have to go out to buy a new item because you can't find the one you just purchased last week.
But especially for seniors, being organized is vital.  I am finding that as I am aging I 
Forget where I put my glasses, my phone, my keys, my purse
Need reminders to take my medication, do my chores, pay my bills
Need help remembering my passwords
Require more patience from my loved ones, especially my grown daughter who lives with me
I want to make her life easier and my life easier.  So I need to be organized.  
Julie Morgenstern, Organizing From the Inside Out
This book is a must have.  I make this recommendation having never met Julie and I gain no reimbursement from her.  However, I do have a link here where you can purchase it from Amazon. I receive a small referral fee if you purchase through this link.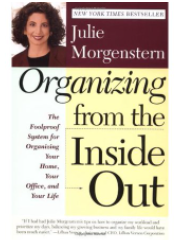 Following I will outline her easy to follow steps to get you started.  
There are five steps to her system.  They are easy to remember because of the acronym SPACE:
Sort
Purge
Assign a Home
Containerize
Equalize
Here's a video of her explaining what those mean.
A Few More Notes From Me
Make a Schedule
I find it easy to set aside a bit of time to start my project.  Sometimes I set a timer.  Take into consideration your energy level.  I recommend you don't do this for hours.  You will be overwhelmed.  
For example I will start with one drawer of my desk.  I will go through the steps for just that one drawer.  Obviously since the drawer is a file drawer, I will have the paperwork assigned to a home already because it is a file drawer!  And it is therefore also containerized.  
But that might not be the case for another drawer, where I keep my desk supplies.  Sort like items, throw away non-working items (purge), decide where you are going to put them (assign a home), place in a tray or section as needed (containerize).  Equalize means to keep on top by maintaining order. 
If you don't finish in your allotted time, then set aside time to pick up the project again.
Get Rid of Stuff!
As we age, we realize we have so much stuff!  We have had years and years to collect stuff.  As difficult as it is to purge, you must be ruthless with yourself.  Label purge boxes.  Those should include:  keep and assign a home, throw away, donate or give away.  
You can Google where to donate stuff, and also where to dispose of electronics, and other toxic waste.  We have also found a group on Facebook called Buy Nothing (and you fill in your area).  We have been able to donate items to people we don't know but who can use our "junk".  I love it!
If you take some time to especially find someone that will appreciate your donation, you will be able to get rid of it easier.  When my Mom passed, who was a musician, I was able to donate all her hard copy music to a high school.  They were thrilled and so was I!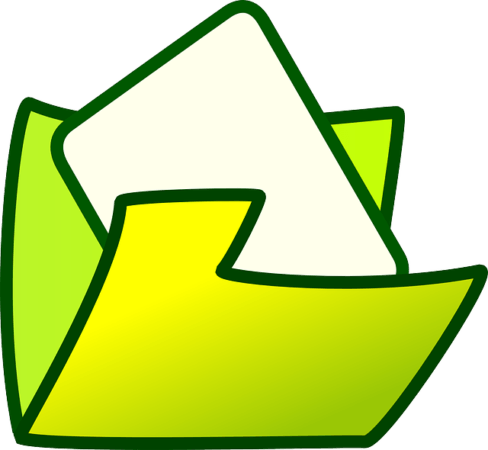 Documents Should Be Organized
What should you keep?  What should you toss?  Julie has a section in her book that outlines this.  
Obviously the important topics are:
Healthcare documents, including information about physicians, medications, health insurance and record of visits
Financial records, including banking, income sources, investments, and property.  It is essential that you  have a loved one and/or trusted professional or friend have access to all these.  A sudden death can cause additional stress if the family can't access accounts.  
End of life plans in writing
For a really extensive list of what you should have check out this great article from Companions for Seniors titled Getting Organized: What Paperwork and Documents Should a Senior Have on Hand?
I highly recommend you work on keeping your paperwork organized on a regular basis.  Have a system of when you pay your bills; i.e., as soon as they arrive, the 1st and 15th, weekly?  I make notes on the bill of when I pay them and how.  I am old fashioned and prefer a hard copy, but many will prefer automatic or online bill paying.  
Throw out junk mail before you even open it.  It's nice to have a regular bin for recycling junk mail and old paperwork.  A word of caution; shred any document with personal information.  An inexpensive shredder is an easy way to avoid hours of headache in the event of someone stealing your personal information.  
I have several articles regarding scams and how to avoid them. Here's one: What is a Scam and How to Avoid Them? Scam Alerts for Seniors
This is a Labor of Love!
Do you want your children to have to wade through years of your possessions and documents after you die?  Of course not.  That is why being organized is doing them a favor.  In the process you have been able to purge the unnecessary and keep the valuable.  Your files are in order and easy to access.  
In the difficult time of having lost you, at least they won't have to spend hours sorting and purging or having to dig for an important document.  So start today by getting the book, reading a few chapters, and getting down to it.
I'm going to start with my crowded night stand in my bedroom.  Are you with me?
Conclusion
Please make comments below.  If you have a question, please ask it!  I will do my best to get you an answer.  And if you have some helpful tips, please leave them here.  We will all thank you.