Are you a senior citizen looking for a device to make your life safer? You need something that is simple to use?  Is your family concerned about your safety when you aren't with them?  Lively Mobile Plus might be what you are looking for.  What is Lively Mobile Plus?  I hope to answer all your questions here.  

What Concerns Do Seniors Have?
If you are a senior citizen like myself, then you are in the stage of life where adjustments need to be made on a regular basis.  If you are like me, you have slowed down, you have health issues you never had before, and you may need help with some activities.
But most of us don't want to be dependent on our family or live in a care home.  That's where technology can make a difference.  There are numerous products available on the market to provide assistance for senior citizens.  They vary in function and difficulty.  I have been reviewing several products myself.
One of my latest reviews is about GrandCare, which is a special tablet made especially for use by seniors.  See my article here.  What is GrandCare?  But please investigate my other articles for information on pill dispensers, nursing homes, and scams against seniors.  (You can browse by clicking on the dropdowns at the top.)
This article will review the Lively Mobile Plus.
What is the Lively Mobile Plus?
It is not a cellphone on which you can make phone calls, or send emails or texts (as with a smartphone).  The word mobile here describes the feature of this device where it can go anywhere you go while tracking your movements. It is specifically designed to:
Contact their response team to determine what sort of help you need
Work even if you can't press the button
Speak to a medical professional regarding medical concerns (with added cost)
Notify family of your movements (with added cost)
Determine if you have fallen (with the added cost)
So the device is basically made to give you the peace of mind that someone will be notified should you have an emergency and you can only press a button.  It is a medical alert device, with a bit more built in.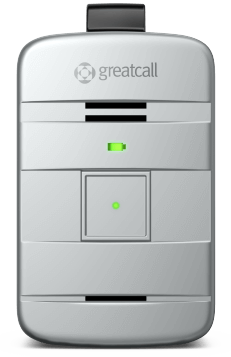 Why Would You Want a Lively Mobile Plus?
I read of a sweet story by an older man who had lost his wife.  She was always there to help him with his vertigo, when it set in.  Since she is now gone, he can use his Lively Mobile Plus to call for help with just a touch of a button.  
For those of us who have chronic pain, there are times when we can barely move, if at all.  This device would be able to call for help.  
The fall detection feature is perfect for those of us who find ourselves in danger of this.  As a preventive measure, please take your time in walking, wear non-skid shoes, and use a walker or cane if need be.  
A loved one might want their senior to have this also.  With the added feature of GreatCall Link, they can be notified of an emergency.  
This device is just a great example of technology working to make our senior lives have more quality.  
Who Makes the Lively Mobile Plus?
The Lively Mobile Plus is available through the company that is known as GreatCall.  They also make the Jitterbug Smart2 cell phone for seniors.  I researched that product as well.  See my article here; Review of Jitterbug2 Smartphone for Seniors. 
John Walsh (of America's Most Wanted) is their Safety Advocate.  I highly respect this man, and therefore believe that this company is truly interested in safety for the elderly.  GreatCall has several listings in Better Business Bureau, and most of them have an A+ rating, and many are BBB Accredited Businesses.
GreatCall appears to be associated with Best Buy and affiliated companies.  So you can purchase this device from Best Buy, Walgreens, and Rite Aid.  

How Much is the Lively Mobile Plus?
For the basic plan, there is a special offer of $19.99 per month, through July 5, 2021.  This is for a new line only.  The Basic plan comes with:
Urgent Response – which connects you with an agent to determine your emergency
---
The next level plan is called Preferred, which is $29.99 per month.  This plan includes:
Urgent Response
Urgent Care – which connects you with a nurse or doctor to help you determine your medical issues
GreatCall Link – connecting you with loved ones or family members through an app
---
Finally, the last level is called Ultimate costing $39.99 per month.  All the features of the Preferred plan are included, in addition to:
Fall Detection – which detects a fall and contacts an agent
There will be additional taxes and surcharges according to their advertisement.  
They state there are no long term contracts, no penalty for cancelling service, and all agents are US based.  
Pros
Cons
Charge lasts up to 80 hours
Disclaimer in ad states that
"fall detection may not always
accurately detect fall"
Easy to use charging station
Rated in BBB at 1 star
(see the reviews here)
GPS tracks location
Clips to waistband or lanyard
GreatCall link app to notify family
Waterproof so can be worn in shower
You Can Buy it Through This Link!
I am happy to state that I have an affiliate connection with GreatCall, whereby I earn a small referral fee if you use my link.  To connect to GreatCall this way, use this link.  Through this link, you can get a 10% discount! And I receive a referral fee.
This will also take you to other products that GreatCall provides.  
Thank you in advance for using this link, and for supporting my efforts to keep seniors informed.  
Or if you prefer, you can go directly to their website here. I do not receive a fee for that, but I want you to have whatever option works for you.
Here is their video.
Conclusion
This device seems like a great product to give us peace of mind. I have seen positive and negative reviews though, and the negative truly concern me. I like that you can reach help with the touch of a button, and add other helpful features if you desire. But the fact that the fall detection isn't always reliable is worrying.
Do your research. The fact that you can cancel at anytime is a plus.
Let me know if you have questions, comments, or have used this product. You information will help others.
Lively Mobile Plus
$19.99 - $39.99/month
Varying Levels of Service
10.0/10
Help is Accessed in a Button
10.0/10
Pros
Help is only a button away
Waterproof
Easy to use charging station
Cons
Fall detection not always accurate
Negative BBB reviews